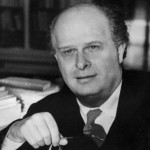 Adriano Olivetti (1901-1960) is among the most modern, versatile and genuinely innovative characters of Italian Republican histotry, unceasingly relevant in his forward thinking.
Successful entrepreneur, hard worker and philantropist, Olivetti designed ground-breaking approaches to the sprouting industrial sector of post-conflict Italy, to later develop the first ever microchips – in stern competition with IBM – and factory building layouts where workers and and their families were an integral part of the area structural design. His drive was to turn industry is a welfare producer, besides a maker of goods, and to integrate labour and ecosystem in one harmonic unity – this, in an age divided by the iron curtain of the Cold War. Olivetti promoted the education of his workers by organizing film showings, opening libraries and such evolved social services which would surely considered avant-garde still nowadays. And nowadays it is when you can still walk in his hometown Ivrea, along a unique itinerary folowing the life and career of this – among other things- world-wide classic typewriter manufacturer that was Adriano Olivetti.
"Olivetti strove to achieve a human-hearted economy model built upon mutual support between business and workers, as well as harmony among factory, city and the surrounding countryside."
The Factory
Olivetti's legacy to the city of Ivrea in terms of culture and urban planning still stands out as the highest expression in industrial planning of the 20th century.
Such set of factories and buildings has been preserved and promoted by the MAAM – Museum of Modern Architecture and the site is a candidate to the UNESCO World Heritage status. MAAM indeed is an open-air urban museum, consisting in city walks by the factory original 1896 site and buildings from subsequent restorations. In 1936 the factory was renovated, with broad windows and reinforced concrete, with an astounding layout eliminating all barriers between indoors and outdoors, between managers and workers: the factory of transparency, which kept on growing and changing until the late 50's.
«We've got to do things right and make sure people know that»
Olivetti had a strong influence on post-war booming Italian economy, and perhaps his most recognizable symbol, his typewriters – portable, functional and stylish-, were to be found in literally every household and office. The company image, its ads and shops would be designed by the time's architecture most prominent names – for instance, the Venice retail shop was designed by Carlo Scarpa- which made Olivetti a world-wide acknowledged trademark of Italian quality and style.
In Ivrea, the Casana villa hosts the Olivetti Historical Archives, a permanent exposition showing those little masterpieces that Olivetti typewriters were, and taking visitors through a surprising series of technological advancements, from early 1900's to electronics: a pleasant trip from our digital, smart technology world back in an analogical one still depending of aesthetic craftsmanship and daring vision.
Architectural Integration: a Functional Utopia
Adriano Olivetti e his management used to look beyong the mere factory and goods- to focus on the workers' life-quality as well. Specific environments were planned: the Centro Servizi Social (Social Services Centre) was built to host both factory staff and citizens and the layout was inspired by organic architecture, shaped as it is in triangular and hexagonal spaces and provided with a library and social care services of all kinds.
Much likely, the Centro Studi ed Esperienze (Education and Experience Centre), heavily draws on Frank L. Wright's architectural conception, whilst the Unità Residenziale Ovest (Western Residential Unit), better know locally as Talponia – that'd be Moleville- was an innovative lodging building for graduates and new workers. Moleville is a striking example of underground architecture – land architecture perfectly fit, integrated and camouflaged in the surrounding natural environment: a milestone in the quest for new, fairer models of community, environment and work integration for which Olivetti fought until his dying day.
Interesting sites in Olivetti's Ivrea:
MAAM (Modern Architecture Museum): take a walk among the architectural icons of the 50's, admire the vision and discover a still awaited-for forward-looking conception of industry.
Permanent expo "100 Years of Olivetti – the industrial plan": managed by the Historycal Archive, it allows for a chronological trip through techinical advancements, social innovation and made in Italy export market history.
Technology Museum: the Tecnologicamente Museum is an interactive site with educational workshops, temporary exhibits and art projects to get your hands on actual techonology history items.
Moleville: like the Sagrada Familia to Gaudì, perhaps the foremost symbol of Olivetti's dream was only completed after his death. Moleville is an uncanny, vintage sci-fi – if you are a cinema lover, you will think of stuff like Woody Allen's Sleeper or Connery's Zardoz-, utterly unique and visionary underground building using modern materials and yet aiming at total integration with the nature around it.
Ivrea's downtown: while you walk around, you'll happen to understand how Olivetti – who also was mayor of the city at some point- shaped and influenced the very life of the town itself, granting it an unparallelled touch of harmony between past and future.