Ri-Volt Srl, brokerage company of electricity and gas, operating throughout Italy with a particular presence in the North-West (more than 1000 industrial enterprises already customers) adds to its commercial offer a structured proposal for the electric mobility called McWatt, providing opportunities to Italian and foreign clients to visit with an extraordinary and innovative transport the many beautiful areas of our country.
Among our partners we count Atala, Bh Bikes, Segway, Askoll, Zero Motorcycles, Citroen, Peugeot, Nissan, Hyundai, Volvo, Tesla, e-Station, Cyberfed
To inspect and test the means you can go by appointment only to our showroom of Valenza (AL) Via Lega Lombarda 15.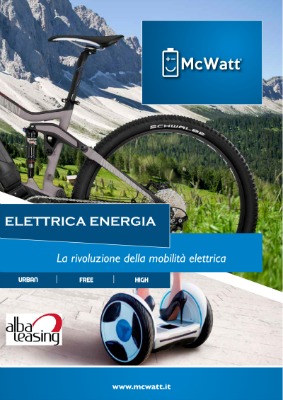 Alessandria Office:
• By Train: coming from railway station go left along Spalto Borgoglio; at the first traffic roundabout follow signs for Torino/Vercelli. At the next roundabout follow signs for Valenza going in via Tiziano Vecellio, after 100 meters turn right into Via Galileo Ferraris.
• By car: exit at Alessandria West, follow signs to Alessandria and cross the suburb of San Michele. Keep right going in SS 10. At the roundabout take the right entering via Tiziano Vecellio and then cross over the bridge on Tanaro river; at the next roundabout follow sign for Valenza returning in via Tiziano Vecellio, after 100 meters turn right into Via Galileo Ferraris.
Showroom Valenza (AL) (by appointment only)
• Coming from Alexandria on SS 494 at the roundabout follow the signs to the center and enter in Corso San Giacomo Matteotti; continue to the intersection of Via Trieste, where turn left and then immediately right into Via Dante Alighieri. At the next roundabout on the right corner with Via Lega Lombarda 15 you find the showroom.